Another dog person once told me each time a dog finds a home either via purchase or adoption, it has been rescued. I think about this often, especially when a new dog comes into our lives.
Nikka died in February 2019 at age 16. Losing her was bittersweet, she had healed our hearts after losing two dogs a year apart, from cancer. We had hoped she would live a long time and she didn't let us down in this respect. She had a sassy beagle-tude and was a clown and a challenge.
By this time, Verona, my retired lab, was old, almost 13 and Bailey, my working dog was 6.
As it happened, April, our daughter, finally asked the question and I said I was ready; prior to the question a few weeks ago, "When are we getting another dog?", I still had felt Nikka's loss.
But this time, my heart was ready to accept a new canine family member and we found ourselves at the local animal shelter. It was like the Goldilocks fairy tale, this dog is too old, this one too young, this one too yappy, this one too big. Then the shelter worker brought in May, an 8 month old slender border collie mix about 50 lbs. Bailey and May played until their tongues hung out and we knew she would be going home with us.
It's been about a month and here is what we know : she was brought up here for adoption from a West Virginia kill shelter, loves to chew and may have already been partially trained when she got lost and ended up in the shelter. Her herding instincts are surfacing, apparent by the instinct to heel, please the handler, and take on new commands quickly and willingly. She already is leash trained but does require supervision inside and with other dogs, mostly due to her propensity to nip during play. We hope she will learn to stop this and model good play with Bailey's help. She has captured our hearts and even Titan, our cat, is grudgingly accepting this new dog.
April and May are partners, sharing what good partners share, and we are all working together to raise this young and energetic dog. There will be more of May on my blog, just wait and read what will be coming up next.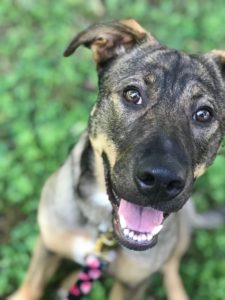 Collie mix May posing for the camera.