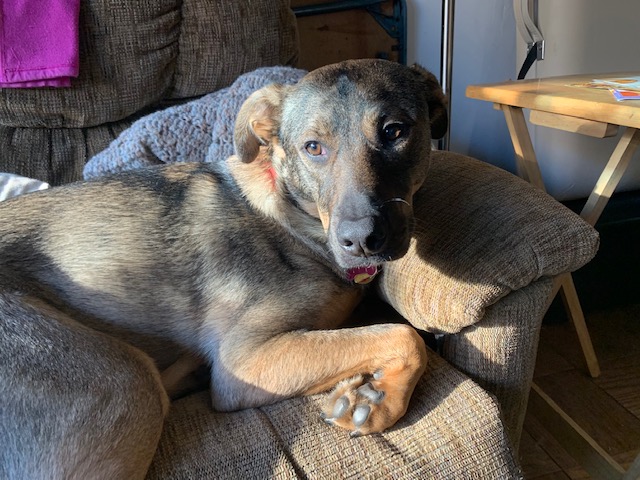 Hello all, this is an update about May the rescue dog. She's matured into a beautiful brindle brown 55 lb. shepard mix, sleek, strong and smart; she knows all her commands, tries not to counter surf and loves to ride with April in her car. May and kitten Noodle are best friends. Jerry can walk the two dogs in tandem for the most part, though I can't mostly because I can't see trouble coming and it is safer for me to control only one dog at a time.
She does these adorable doggie things like placing a paw gently on your chest to ask you to play with her. How could a human resist? Anyway, I've been a double-dog advocate since picking out Rocki and Gunny with Jerry all those years ago and believe she helped Bailey (and us) stop moping around after Verona died. As long as you can afford the time and dollars, go tandem!
May blessings be upon you and your loved ones now and always. Happy HOwlidays!
Photo is May on a recliner, the sun lighting up her sweet face and those derpy ears are so cute.