Whoa, pups and people, first of all, this is not a shock jock kind of post. It is my attempt to express the feelings and observations during the events of the past three weeks. We are all okay, so it is safe to keep reading.
🦮
Bailey, my 75 lb. yellow lab raised and trained by Guiding Eyes for the Blind, was diagnosed with a tumor in his lung. It was discovered in a routine vet visit and I am so grateful for the  staff veterinarian at Guiding Eyes for  listening to me and ordering the Xray and referring us to Animal Medical Center in New York City for  a CT and needle biopsy confirming the diagnosis.
We are now waiting for the surgery date  to remove it. During the examination of the CT scan/biopsy procedure authorization, I read the DNR clause. It said CPR would be administered unless directed otherwise by the owner. Of course I wanted lifesaving procedures to be performed, my dog  is showing very little symptoms and isn't ready to check out.
I stopped, thinking, OH, shoot, a DNR? And it hit me just how serious this was and  how sick my sweet 9.7-year-old lab really is. He showed only a mild cough after playing and slowing down a little when we were out and about. I'm not sure why but  Bailey's diagnosis brought me back to our Mom's lung cancer and the mind-numbing period of time during her surgeries and treatments. Because of the consultations and  speaking with medical oncologists during our Mom's illness, I believe I have a better grasp of Bailey's chances and risk factors. I am not saying a dog is the same as a person, but I am thinking that Mom's passing provided insight and strength for me and my husband to be better equipped to handle whatever comes after Bailey's upcoming surgery and convalescence. Then again, maybe I am saying a life is worth fighting for, human or non-human.  Mom did not differentiate among two or four-footed family, and neither will I.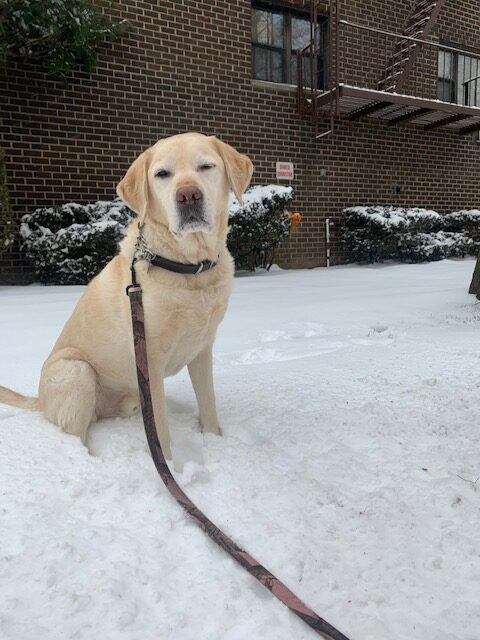 yellow lab Bailey in our livingroom